Shimcat's Bistro has been in business since 2008, bringing a large variety of foods to the people of Movoda. Please feel free to browse our catering menu below, and message Shimizu with any questions or comments you may have. ^.^
* All Prices Subject to Availability *
* Ingredients will be accepted in exchange for any foods *

Appetizers subject to availability.~
Cooked Haddock – 4v
(Heals 8hp)
Cooked Salmon – 6v
(Heals 10hp)
Cooked Swordfish – 8v
(Heals 11hp)
Meatloaf – 15v
(Heals 9hp)
Raw Tuna – 2v
Shark Fins – 16v
Raisins
(mats only)

Herbal Tea -
(mats only)
Bottle of Juice
– 30v (or mats)
Mint Tea-
(mats only)
Berry Cordial-
175v

Fish Kabob
– mats only
Seafood Platter
– 70v (or mats)
Seafood Stir Fry
– 50v (or mats)
Shark Squibs
– mats only
Tuna Casserole
– mats only

Stew
– mats only
Spagetti
– mats only
Pizza
– mats only
Quiche
– mats only
Potatos Au Gratin
– 50v, or mats
Meat Pie
– mats only
Beetle Goulash
– mats only
At this time, Shimcat's Bistro does
not
have a liquor license so we are unable to provide alcohol, with the exception of Berry Cordials, which we sell at a stall in the alleyway off the premisis.
If you are interested in something not on this list please feel free to send
Shimizu
a message.

You can stop by anytime at our storefront for a fantastic selection of prepared foods; or arrange to pickup your catering order at our shop.

We accept payment in vessi or tradegoods, below is a general pricelist (subject to change based on market) :
Magic Fish – 1000v
Rhizard Stew – 80v
Shark Steak – 6v
Green Pepper – 27v
Mushroom – 25v
Most other vegetables :
10–20
v (ask).
Bait – 1v
Lumber / Logs
?
– 4v
Note, we do not sell~ any of the above, this is our buy price for reference if you'd rather trade goods instead of paying in cash, or if you want to sell any of this stuff to us we will buy it at our shop.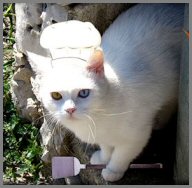 http://www.movoda.net/man/shimizu